Two pages of information,
                some rules, (sorry but they are necessary),
                                  and what else goes on at the Welcome Club
Wheelchairs are allowed into the main areas but unfortunately, because of space and insurance restrictions, push chairs must be left in the lobby. No animals other than special needs dogs are allowed into the club.
We have pool
 We have darts
We have poker
We have bingo
We have sports on TV
 We have music and dancing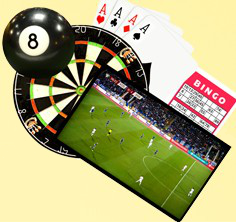 Children
We love them but we do have to make some rules for everyone's comfort and safety.
ALL persons under 16 years:
Must be under the supervision of at least one responsible adult at all times.
Must not use the dart boards or the pool table that is used for matches.
They may use the other pool table under adult supervision.
Should be off the dance floor after the bands break. Provided the dance floor is not too crowded and the child is dancing with an adult we would prefer not to impose this rule but we will if we have to.
Are You A Member?
To ensure that only genuine paid up members enjoy the benefits of the Club, membership cards must be carried at all times that you are in the Club and must be shown on request.
Don't forget that on group nights members and their full time partners are only allowed into the hall free if they can produce their membership card, otherwise the normal entrance fee will be charged for both persons.
Door staff have instructions to enforce this rule. Please do not abuse them.
It's A No No
NO abuse, either physical or verbal can be tolerated at any time, including damage to the Club.
We are a member of SCUCA; anyone causing problems may be reported to all Stanford and Corringham clubs and could result in you being banned from all of them.
If you have a valid urgent complaint then please see a member of the Committee.
If you have a non urgent complaint then please email or write to the Committee.
The Dance Floor
For everyone's safety we have a strict rule:
No glass or liquids are allowed on to the dance floor
Should any spillage happen, if necessary, the entertainment will be suspended while the floor is cleaned
Respect: When special entertainment is booked, please remember that the dance floor may become part of their 'stage', if this is the case please keep the dance floor clear at all times.
DEFIBRILLATOR:
Our FULLY AUTOMATIC 'iPad SP1' defibrillator is kept in the door persons cupboard
which is next to the front entrance.
Once switched on the machine will give simple instructions on how to use it.
Search Youtube for 'ipad sp1' or watch the video at:
FOOD
Thursdays      12 noon to 6.30 pm. Please order by 6pm
Fridays            12 noon to 8.30pm. Please order by 8pm
Saturdays      12.30pm to 8.30pm, Please order by 8pm
Served from our level 5 for hygiene certificated kitchen
Data Protection
General Data Protection Regulation
The Club will never give your personal data away to any unauthorised third parties. We are a WMCIU affiliated club and some data will need to be processed by them. You have the right to access all of your personal data, rectify anything that is inaccurate and object to it being processed in certain circumstances, or completely erased if you leave the Club.
Each request will be dealt with within one month of receipt free of charge.
How Do We Keep Our Prices So Low?
We are a members club and the yearly subs help us to plan ahead.
There are many volunteers, including the Committee, who run the club, run the raffles, help to keep the grounds clean and tend to the plants etc.
Help us to keep the prices low: support the Friday night raffle, the fortnightly raffle, and the Tote.
Please treat all Club property with respect and remember that food & drink purchased elsewhere are not allowed into the Club without express permission which is only granted under certain circumstances.